The Cambodian government has taken additional measures to curb the country's latest outbreak of COVID-19. The pandemic has led the government to close down the cities, limit gathering to prevent the larger-scale community transmission. Thus, this makes it the right time to launch your on-demand multi-service Gojek Clone App business.
With the advent of on-demand apps, the Cambodian government is encouraging foreign investors and companies to launch their on-demand app business in the country. Thus, this gives startups and entrepreneurs the right opportunity to launch their Gojek Clone App.
What Makes Cambodia The Right Choice For Gojek Like App?
Great business potential
Cambodia is a developing nation. Thus, it requires the right investors and entrepreneurs to boost the economy. There are no or fewer on-demand service providers in Cambodia. Let alone those providing are not up to the mark. The people of Cambodia do not how groceries or repair services can be scheduled using the app. Thus, the place has a lot of potentials to launch the Gojek Clone App.
Gojek Clone App in Cambodia can be launched with a complete package offering 70+ services. Hence, making it comfortable for people to order their daily essentials online and get the delivery at the doorstep during such tough times.
More demand means more profits
The people of Cambodia have less idea of how on-demand services and delivery work. Thus, offering them an on-demand multi-service business like Gojek can be huge in demand. People stuck in the lockdown will get a chance to order everything in a hassle-free manner. The demand for essential items, handyman services, safe transportation is very high. Thus, offering these and many more such services by launching Gojek Clone App in Cambodia can be an excellent idea to boost your business profits.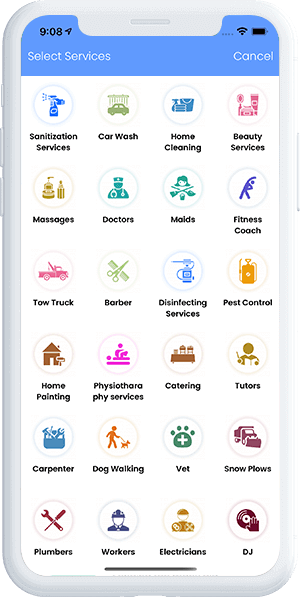 Single app multiple services
People of Cambodia might be using different apps for various on-demand services. However, Gojek Clone Script Solution removes those hassles by offering 70+ on-demand services to the users under a single application. Taxi service, grocery delivery, food delivery, house cleaning, handyman, and many more services can be provided through Gojek Clone App in Cambodia.
Bringing local vendors/service providers
There are a few countries like Cambodia where the biggest strength to e-commerce driven on-demand delivery is their local businesses.
If you want your Gojek Clone App to be successful, it's time you encourage local businesses to signup with your app. Connect as many local communities with the users to boost your app visibility. This in turn will raise awareness of your on-demand app, plus encourage more users to signup to buy the services.
Thus, facilitating the customers with the local stores, restaurants, and service providers can help increase brand awareness. Your revenue keeps steadily growing. People of Cambodia will not view it as some random delivery service app but, creates an impression of a separate entity
Additionally, you will save huge on the administrative and operational costs, as you will not require so many resources to do the job. Also, it does not involve the cost of supply chain management and warehousing. The services and the deliveries will be provided by the local vendors.
To increase the efficiency in the delivery, you can choose to hire a 3rd party delivery partner/fleet that takes care of the entire delivery management.
Expand avenues for revenues
Gojek Clone App in Cambodia will open up ample new opportunities for local businesses. The app will become a platform connecting businesses and the users with each other. This helps businesses to provide their services and earn profits by not investing a huge capital. The app helps businesses to reach a good number of people quickly. When the service offerings and the products are great the demand of the same is bound to increase.
Hence, the revenue is also expected to increase.
Disagreeing with the belief that on-demand apps destroy local businesses. Rather it provides them several new opportunities to showcase their products and services thus, widens the customer base and earn more revenue.
In Conclusion
When the on-demand industry starts to gain prominence, it is obvious for an app like Gojek to be high in demand. The growing demand for multi-service delivery apps like Gojek is fueling the economy and Cambodia seems to be the center of the attraction.
Gojek Clone App unifies 70+ on-demand multi-app services into a single platform. If you are looking to build your business using Gojek Clone in Cambodia, get in touch with app development companies in India that specialize in developing on-demand clone apps like Uber Taxi Clone, Postmates Clone, Instacart Clone, UberEats, Gojek, and so on. The app development team will take care in not only creating the app but provide you with the white-label customized app suiting to your business requirements. Kickstart your on-demand business using Gojek Clone App in Cambodia and be the number One multi-service app provider.