The business of delivery has evolved a lot in the last few years. From having to physically move yourself from one place to another, to relying on couriers and checking their status using the air way bill numbers repeatedly, things have truly undergone a major change with the entry of an app like the Deliver Everything App.
What is the premise of the Deliver Everything App?
The Delivery everything app is exactly what is says EVERYTHING! With the help of the Deliver Everything App, you can make sure that you get the following facilities:
On Demand Courier Delivery Facility
Using this option your users can send any parcel from one place to another. This facility will allow your users to make sure that you can send items as small as an envelope or even as large a hundred bags of cement. This part of the app allows users to pick the kind of vehicle they would like to send their parcels on based on its dimensions and their own budget. What's more, one can send across any items from one place to another or from one place to multiple places with a single click.
On Demand Food Delivery Facility
This part of the app works exactly like any food delivery app does. All you need to do is open the food delivery section of the delivery everything app and then select the items that you would like to order from the menu of your favorite restaurants. The app would then automatically assign a delivery driver to pick up your order from the restaurant and deliver it to your doorstep.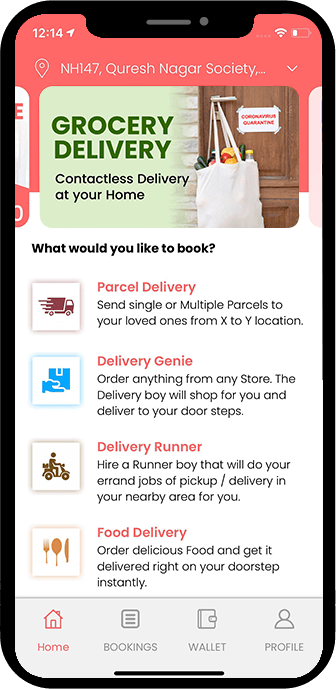 On Demand Grocery Delivery Facility
This part of the app makes sure that you can order items from a grocery store and get it delivered to your doorstep. The app simply requires you to select the grocery store that you want to purchase your goods from and then add the items within it to your shopping cart. Then confirm the order by making a quick payment facilitated using the app and the app automatically assigns a driver to get it delivered.
On Demand Bottled Water Delivery
In many countries, potable water is something that people must purchase for consumption. In those region, this app works like magic. Your users can access bottled water distributors directly and purchase any quantity of drinking bottled water from the app instantly.
On Demand Pharmacy Items Delivery
Regardless of what situation it is, people will always need medicines and other medical supplies and pharmaceutical items. With this app, the users registered within your app can purchase prescription and non prescription drugs easily with a click of a button. The same can be delivered to their doorstep.
Other On Demand Delivery Options
There are so many possibilities that this business model can help people realize that truly sky is the limit. Any item that can be purchased from a store can be applied to this business model. The on demand delivery foray extends to items like:
Flower delivery
Baked goods delivery
On demand home cooked meal delivery
On Demand Ice Cream Delivery
Party Favors Delivery
On Demand Alcohol Delivery
On Demand Medicinal Marijuana Delivery
And so on and so forth
The Special Spice of the On Demand Everything Delivery app
The app also has two specialized delivery features. These are the ones that truly add the spice to the whole on demand delivery arrangement. They are:
This feature that allows users to hire a delivery driver to pick up and deliver any item sold from a store that does not have the delivery facility. The delivery genie will pick up any item that they have purchased without the delivery option.
This is another unique and fascinating feature that makes the life of many a user absolutely easy. A delivery runner is your personal courier. The delivery driver will pick up, collect, drop or send any items anywhere anytime. Whether you want someone to collect your laundry, or a charger that you left at home or even your lunch from your house, book a delivery runner.
Where to get the best on demand everything delivery app?
There are so many companies around the world that offer the best kind of on demand mobile app development. Thus, that it might get confusing for the entrepreneurs to choose. Each app comes with its own set of features. Focus on the options that suit your particular business requirements. This includes your budget, your target audience and the region where you are planning to launch the business in.
Make sure that you only get your app from a reputed white label on demand mobile app Development Company. A company that has experienced of at least 1000 live apps on the Google Play store and iOS app store. Thus, it will give you a good idea of the quality of deliver everything app this company has the ability to build.