We live in an on-demand era. Few taps on the smartphone, get your stuff delivered right at your doorstep. Right from grocery buying to gifting to food deliveries to getting a beautician these on-demand apps are making our lives super easy and organized. Hence, witnessing the increasing demand in the multi-service app, entrepreneurs of all kinds are showing interest in building a home services clone app.
What Is Zimmber App?
Zimmber is the all-in-one solution to your household woes. As a matter of fact, the app lists a wide range of services that are aimed to provide on-demand app services helping people organize.
The app enables users to book on-demand home services at their convenience. Thus, making it easy for the users to avail services either at their home, office or suggested location confirming the time slot and the date.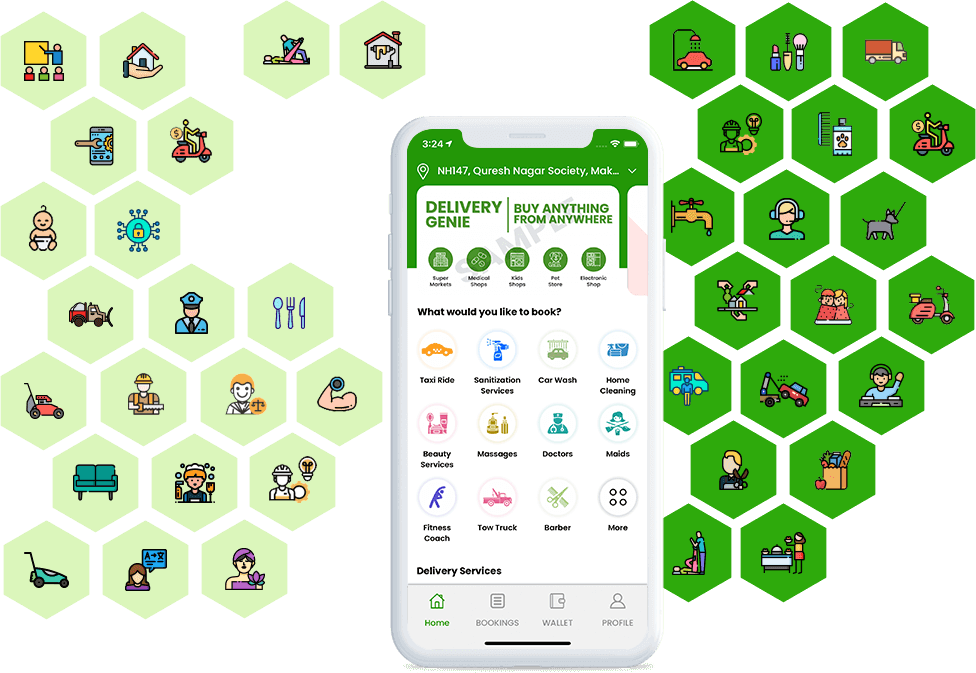 The key services include – Plumbing, electrician, painting, appliance repair, locksmith, PC/laptop repair, beautician service, car wash, home cleaning, maid service, babysitting, tow truck service, pest control, and more.
Looking at the key service offerings, if you find this concept lucrative and wish to build a Zimmber clone app, check out the features of this home services app. Furthermore, have your app developed from a white-label mobile app solution provider that helps you develop a successful app.
Why You Should Build Zimmber Clone App?
Zimmber clone app is the right platform for entrepreneurs to venture in the on-demand marketplace. The app comes equipped with verified and trusted service providers offering a variety of services at affordable rates. Your app can have as many home services category to provide your users one-stop solution for any of their woes. Therefore, the app helps you build multiple incomes through various channels, making it the most profitable business with minimum resources and overhead costs.
Features Of Zimmber Home Services Clone App
Social media login registration
Browse from the exhaustive list of categories with detailed info on pricing, work history, and ratings
Describe the task (service you wish to have)
Get the matching criteria from the app available in your nearby locations
Confirm the order and make the payment
The service provider sends you the servicemen at the scheduled time
You get notified through real-time tracking
The user gets the notification of the completion of the task
The app lets the user and service provider offer feedback
Summary of the invoice is goes to the user
Prominent Features That Makes Zimbber Clone App So Popular
Advanced search options
The advanced search filter offers a complete display of home services, allowing the user to narrow their search. Some might have a budget constraint, need same day services, wish to go by the ratings, and so on. Hence, filter lets the user set the perimeters to get the best suitable option.
Verified and certified freelancer professionals
The Zimmber clone app is an equal opportunist, offering work opportunities to freelancer professionals as well. All of these professionals have gone through a strict background check and verified and listed only after that. It provides them the freedom to choose their kind of work and be their boss.
Multi-payment options
Transparent pricing and payment processing make this home service clone app famous. Thus, people are willing to pay when quality services is available at economical rates. Moreover, they can pay with convenience through debit/credit card, Wallet, Google Pay, COD, etc.
Thus, concluding, that if you are one of that go-getter entrepreneur believing in innovations, the Zimmber clone app is what you should develop. This can turn out to be your door towards success, thus minting you huge profits.
Approach a leading mobile app development company offering on demand home services clone app. Take the live demo on different platforms to know their functioning and performance. Discuss the changes you wish to integrate into your app in terms of features, layout, navigation. Furthermore, the mobile app developers will be guiding you through. Thus, ensuring that your app development is hassle-free from installation to launching your app successfully in the App Store / Play Store.