Building your own All in One Delivery App Based Business like the Mrsool Delivery Clone
People today rely heavily on their smart phones for all their needs. Since lives have become so busy and the ever growing need for items being transported from one place to another is increasing as well, it is evident that having a reliable on demand app like the Mrsool Delivery Clone that facilitates deliveries is something that people look forward to. If you too have been dabbling in the delivery business and wish to grow your own app based business that can facilitate any and all kinds of deliveries, you must read the information given in this blog.
Here, we will try to understand the following things:
What is the scope of an all in one delivery app like Mrsool?
What are the Most Significant Features in this kind of an app?
How to secure the best on demand Mrsool Delivery Clone App for your business?
Let us get to each of these questions individually and try to understand them better.
What Is The Scope Of An Online All-in-One Delivery App Like Mrsool?
The Mrsool App clone is an on demand delivery app based platform that allows users to get any item delivered from one place to another using their smart phones. The app can be downloaded by the users and then logged into to ensure that they can send a parcel (of any size or dimension) from one place to another, or order things online and get them delivered to their doorstep.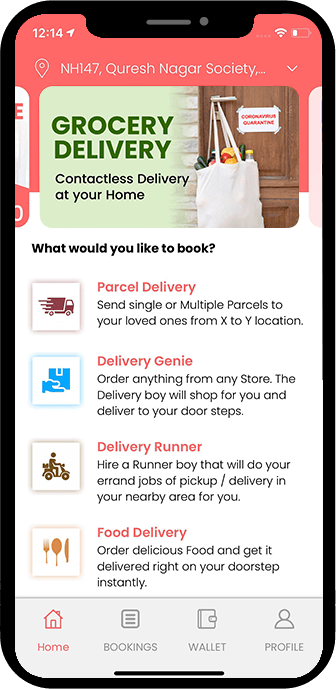 Please note that typically when someone thinks about a delivery app they are thinking only of a parcel delivery sort of an app, but with an all in one delivery app, you can have the following facilities:
Parcel delivery to one place
Parcel delivery to multiple places
On Demand Food Delivery
Same day Grocery Delivery
On Demand Alcohol Delivery
Flower Delivery
On Demand Bakery Goods Delivery
On Demand Pharmacy Delivery
And much more.
Basically, the app can be used to get anything delivered from one place to another or even to purchase things online and get those items delivered home.
Most Significant Features of this kind of Apps
While these apps are so popular that the moment you launch them, many people download it almost immediately. However, since the immense popularity is also what gives rise to competition, there are hundreds of thousands of on demand delivery type of apps in the market. In order to make sure that you app is the most successful one of them all you must include some of these features within it.
Easy download and log in
To be able to find your app easily and to then be able to log in to it is very important. Many apps have very difficult names. Names that don't match up with the meaning of the task that they are meant to fulfill. This makes it difficult for people to find and download them from the Google Play Store or iOS app store.
Make sure that the app is easy to log in without having fill in tedious numbers of forms. The easiest way is to allow the users as well as the service providers to log in via social media accounts.
GPS Tracking
This is the single most important feature of any kind of on demand app. People want to be able to track their delivery personnel. They need to know how much time it will take, after placing the order.
But, apart from that, the GPS system makes it easy for the delivery people to quickly find the location. It is an essential component of the app. 
Superior Admin Panel
The admin panel of the application forms the hub of all kinds of functionality in the app. The admin panel is the dashboard. A place where you can manage and oversee the entire app and how the business is panning out. 
This part of the application will also allow you to tweak the app as per your convenience. For example, if you need to modify the number of services, the radius of action (in this case, delivery) for any particular service or even change the amount of commission you want to make per delivery.
How To Secure Best On-demand Mrsool Delivery Clone App For Your Business?
There are many ways you can go about getting your own on demand all in one delivery application however, the most practical and easy solution is to get your own Mrsool Delivery Clone app built by a white label on demand mobile app Development Company with at least a few years of experience in building and launching such apps.
Make sure that you go through their demo app before you make the purchase. Discuss your app concept with the development team to get an idea. Furthermore, the team will suggests you recommendations that makes you app easy to launch and successful.
While you are at it, check their testimonials to know customer experience working with them. This will enable you to gauge not only the quality of the app, but also the professionalism of the on demand mobile app development white label company.