Experience a boom in your business by building Asia's best multi-app service app – Gojek Clone Application. It is the right time to get rid of a single app like food and grocery delivery, and launch your business by developing the Gojek Clone App.
This multi-service app can accommodate 60+ on-demand services and leverage commission through multiple service channels.
Understand Gojek Clone App
The custom Gojek Clone App is a readymade application that enables you to offer 60+ on-demand services under a single app. This includes taxi rides, grocery delivery, parcel delivery, repair person services, etc.
You can tweak Gojek Clone App's features suiting to your business requirements. Thus, allowing you 100% customization so that you can make changes without any technical help.
Like said before, Gojek Clone App is Asia's biggest multi-service platform which is highly successful. Witnessing the popularity and the fame of this all-in-one app, entrepreneurs are keen to build Gojek Clone App.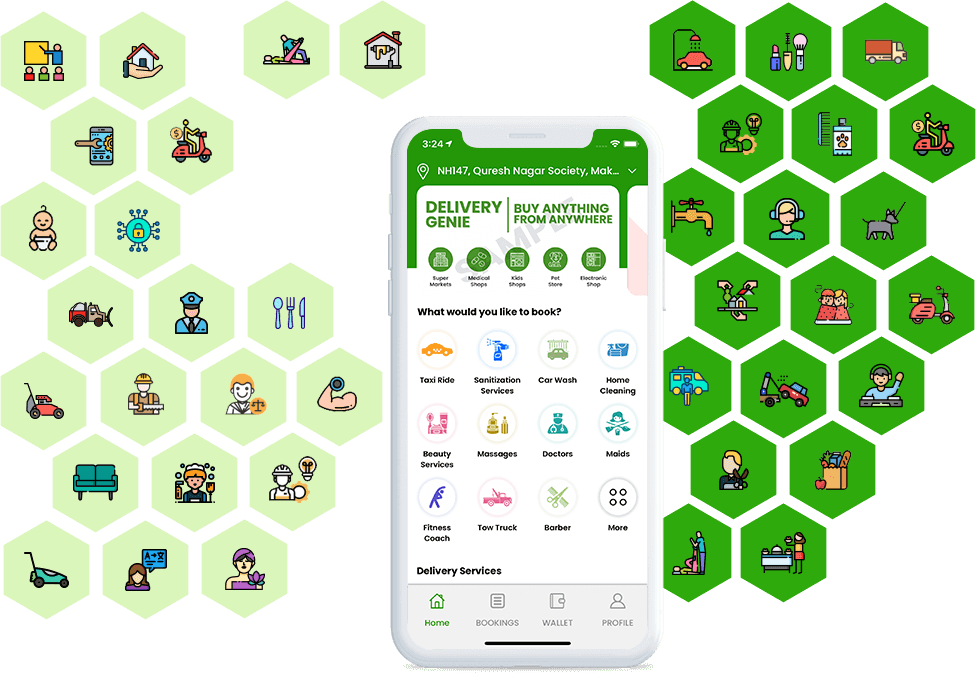 Why You Should Invest In Gojek Like App?
GoJek App functions on a single platform. Offering various services like shopping, food grocery ordering, commuting, connecting with the local repairperson communities, etc. Thus, the primary reason Gojek is called a super app.
We have seen this; our phones are cluttered with 10 different apps. For every service, there is an app downloaded. These apps take up a lot of space on the phone and slow down the functioning of your smartphone. Thus a need is arisen to have a super app that can accommodate several on-demand services on the go.
For this reason, businesses are now interested in investing in Gojek Clone App to capitalize their business.
How Gojek Clone Super App Became Popular?
During the COVID19 outbreak, businesses offering a variety of services were paused including logistics and transportation.
Governments of the countries were imposing strict lockdowns. Thus, people were left out with the only options to buy their stuff online.
This witnessed a huge boom in the on-demand delivery and service industry. Hence encouraging several entrepreneurs to start their multi-service business online. Moreover, the best way it seems to be creating Gojek Clone App.
Consumers are now getting use to ordering online. Additionally, to enhance your Gojek Clone App downloads; you can tie up with other services like banking services, hospitality services, wealth management, booking tickets, etc. Whether the pandemic is over or not, the demand for multi-service apps like Gojek Solution will be there.
Things To Consider Building On-demand Multi-service App Like Gojek?
Business owners will have to consider several factors before building an app like Gojek. It is important to plan the business model so that you can eliminate the loopholes and have success once you have launched in the market.
Deciding on your target niche
Finding who your target audience is is crucial. The on demand multi-service app will be design based on your suggested demographics. Know their likes, dislikes, what kind of features they are expecting, spending habits, and so on. Thus, helping you to narrow down the possibilities ensuring you get the right features and functionalities in your Gojek Clone App.
This might be the tricky part; you need to integrate wisely the monetization strategies that are right for your business. Know your customer's preferences, local communities, etc. to figure out the Gojek Clone Revenue Generation model without affecting the user experience.
To stand out from the competitors it is crucial to know what your competitors are offering. This way you will get a clear vision of what kind of Gojek Clone App model you should launch. Eliminate the mistakes that your competitors have made, ensuring your app has seamless functionality.
Before developing the Gojek Type of app you need to know how much you will have to spend. However, developing an app like Gojek will cost you way less compared to the one making right from scratch. Contact a couple of app development companies to know the Gojek Clone App development cost. Thus, this way you will get an idea of how much you will be spending on developing an app like Gojek.
New Version 2021 Features of Gojek Clone App
Launch your Gojek Clone Application with the 2021 version advanced features that include:
Restricted passengers limit
Face mask verifications
Safety ratings and reviews
Safety checklist
Apply toll cost manually
Ride cancelation
Taxi fare calculations – 2 models
Store wise commission
Daywise separate time slots
Stores and Items name searching
18+ age confirmation
Voice instructions note for delivery drivers
Restaurants to upload their kitchen pictures
Order cancelation option for delivery drivers
Graphical status of the orders/rides to the users
OTP verification before starting the task
Corporate Social Responsibility demonstrates that you give back to the communities
The conclusion is that if you are a business owner looking to launch your Gojek Clone App you need to partner with an app development company like V3Cube that equally gives importance to its work commitments and CSR activities.
V3Cube has come up with some creative ways of doing "Social Good" by generously helping "Jivdaya Charitable Trust" – a non-profitable organization by donating Digital X-ray cassette and X-ray lead partition for effective, improved, and quick pet treatments.

Partner with Gojek Clone App Development Company V3Cube that finely balances their different app projects worldwide. Check their website that highlights their work commitments and CSR event pictures.